17 november 2016
Quebec producer to triple tomato production greenhouse
Founded in the early 60s by Yolande and André Demers, the history of Horticultural Productions Demers begins with the cultivation of strawberries. It continues in the 1970s with greenhouse production and the introduction of new production techniques. Several greenhouses are being built and by the mid-1980s, consumers in the Quebec City area can purchase DEMERS greenhouse tomatoes from supermarkets in the region.
In 1990, Jacques Demers and Réjean take over from their parents and continue the growth of the company. The production of DEMERS now includes tomatoes, peppers, aubergines, strawberries and raspberries.
The company, headquartered in Lévis (Saint-Nicolas), begins the next chapter in its history with the construction of a new greenhouse of 6.8 hectares in Drummondville, a proposed $ 25 million that will be operational from October 2017. DEMERS will triple its facilities in Center-du-Québec from 3.2 to 10 hectares, making it the largest greenhouse tomato production in Quebec. The announcement was made at a press conference that brought together the financial partners of the project and the Mayor of Drummondville in the premises of the Economic Development Corporation of Drummondville.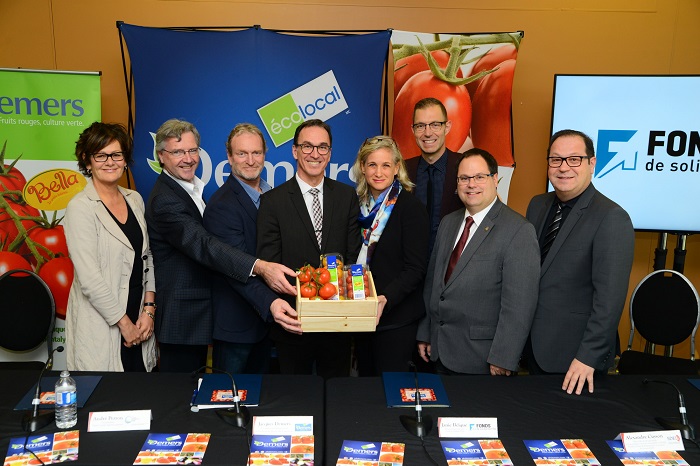 "The addition of this greenhouse makes it the largest tomato greenhouse in Quebec. Quebec consumers will be able to source locally 12 months a year via their supermarkets ", said Jacques Demers, President of Productions Horticultural Demers.
Alexandre Cusson, Mayor of Drummondville: "We are delighted to see that the Demers family trusts in Drummondville and chose to invest to build the largest greenhouse tomato production in Quebec. Recognized for its innovations and good practices, we are pleased to count on a company like Demers Horticultural Products that promotes our local development. "
"By focusing on agri-food, the Fund seeks to enable Quebecers to eat more and more fresh, quality and locally produced vegetables. We are proud to partner with DEMERS, a tomato producer in Quebec, tomatoes that are tasty, quality and eco-responsible, "said Janie Béïque, Senior Vice-President, Industries, Entertainment and Consumer Goods, Fund Of solidarity FTQ.
André Perron, Vice President Equity with Desjardins Business - which manages the funds, the new investment in Demers Horticultural Products demonstrates the long-term support that we offer to our partner companies. "As early as 2011, the date of our first investment in the company, we were won over by the quality of the management team. We are proud to support, once again, Demers Horticultural Products, which continues to be innovative and bold. The best is yet to come for this jewel in Québec's agri-food sector, "concluded Mr. Perron.
For Murielle Joncas of Capital Financière Agricole Inc.: "The history of this company demonstrates the seriousness and entrepreneurial values ​​of its manager, M. Demers. Since 2003, his vision, his ability to innovate and seize opportunities make him an unrivaled collaborator for Capital Financière Agricole Inc. This is why CFAI is proud to be associated with this project. "
Also, as mentioned by Mr. Martin Dupont, General Manager of the Drummondville Economic Development Society (SDED): "We are pleased to learn this beautiful new large economic leading to a major investment in the territory of the city of Drummondville. Already a fixture in the Drummond RCM, the food industry still has gain importance in the regional economy. Moreover, this project, in addition to creating new jobs, will contribute to the diversification of our economy. "
Green energy, sustainable agriculture and red fruits
Waste Management (WM) conducted in 2012 in Drummondville, a unique project in Canada to a double recovery of biogas extracted from the landfill. The company has installed a power plant that uses biogas as fuel to power engines, which are coupled to generators. WM has developed an ingenious method in which the heat energy is recovered and used as an energy source to Demers, came to settle in Drummondville.
"With this energy efficiency project, we can produce tomatoes throughout the year, including during the winter months. We are continuing to maintain a leading position in Quebec grocery stores, increasing our market penetration in Montreal, at more competitive prices, to cope with the import of products from Mexico and South America. This production model also allows us to avoid using fossil fuels to heat the greenhouse, in total this greenhouse reduces GHG emissions by more than 26,000 tonnes annually." Demers said.
"We are proud at Waste Management to participate in the development of DEMERS by providing our partner with green energy that enables it to stand out and be at the forefront of technology in its field. At the same time, we look forward to contributing to sustainable development of Drummondville by the realization of this new project that has embodied energy efficiency, "said the Chief of WM landfill in Quebec, Simon Mercier.
Read the full article on the Newswire.ca website here: LINK.